Wastewater research
The study "Building up the early warning surveillance of SARS-CoV-2 based on waste water analysis" Researchers at the University of Tartu are setting up an early coronavirus warning monitoring system based on the wastewater analysis. International experience shows that it is possible to detect traces of the virus in sewage samples before finding the clinical patients. Sewage monitoring also provides early information on the regional spread of the infection. The survey is an important source of information for the Health Board in detecting hidden foci and monitoring the outbreak dynamics.
The wastewater samples are taken in all county centers, cities with more than 10 000 inhabitants and, if necessary, smaller settlements and institutions of local importance. In collecting samples, the University of Tartu cooperates with the Estonian Environmental Research Center and water companies that operate the urban wastewater treatment plants. Traces of coronavirus traces in wastewater samples are performed in the laboratories of the Institute of Technology of the University of Tartu, where there are people with the appropriate technical capacity and training.
The study started in August 2020.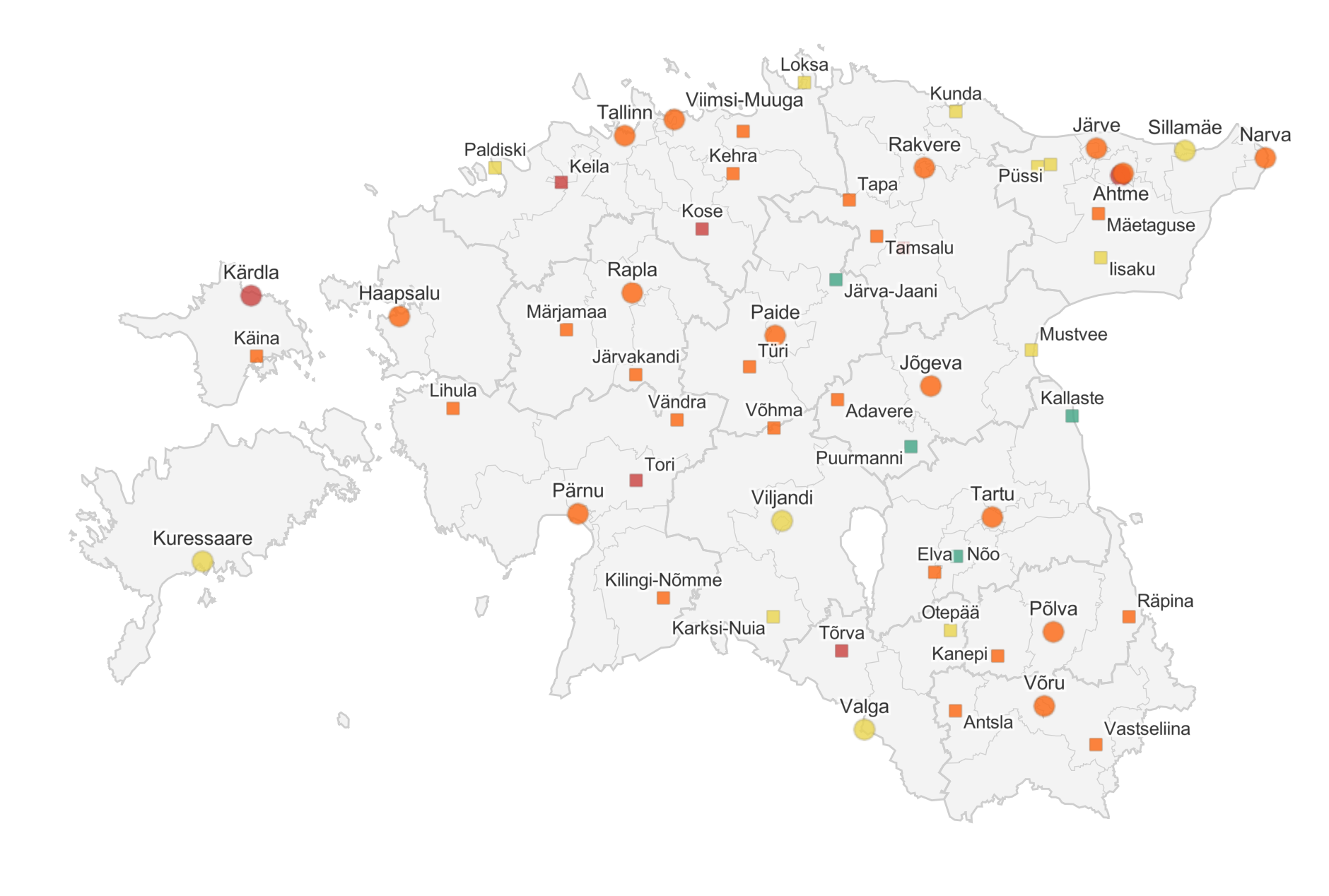 Source: The wastewater map
Map legend:
The circle indicates the larger settlements from which 24 h composite samples are collected.

The square indicates the smaller settlements from which point samples are taken.

If the name of the place shown on the map is different from the name of the municipality, it is due to the operating areas of water treatment plants, which may not always exactly coincide with the boundaries of the municipality.

The place names with an asterisk * denote districts of larger settlements: *Järve and *Ahtme are the districts of Kohtla-Järve

🟢 Green - < 100 virus/ml (little or no spread)

🟡 Yellow - < 101-1999 virus/ml (moderate spread)

🟠 Orange -< 2000-10000 virus/ml (wider spread)

🔴 Red - > 10000 virus/ml (extensive spread)